Announcing the New ICF Strategic Plan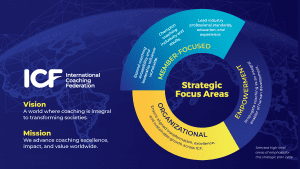 You, and every ICF member, are crucial to the success of ICF and coaching's impact in the world. We truly are partners in the work we do, which is why we are excited to share the new ICF Strategic Plan with you.
We remain committed to leading the profession through excellence, impact, and value, and supporting coaching's ability to advance society for the better. You will see these elements reflected in our new vision and mission statements, as well as our strategic focus areas.
"Our new strategic plan is a living (and evolving) expression of both the emerging spirit of One ICF and our vision of 'a world where coaching is integral to transforming societies,'" says 2023 ICF Global Board Chair Dumisani Magadlela. "Our strategic plan also speaks to our values, especially those of Collaboration and Humanity. It is all our responsibility to familiarize with all details of the strategic plan and work together to breathe more life and energy into its implementation."
The plan demonstrates the unity of the One ICF ecosystem, and our goals will help move ICF, coaching, and society forward. With this in mind, the strategic focus areas were developed to address three larger themes:
Member-Focused: To ensure we continue serving our members the best we can — for today as well as tomorrow.
Organizational: To manage and evolve ICF and the One ICF ecosystem responsibly and sustainably.
Empowerment: To enable human and societal development through coaching, of which all parts of ICF will play an integral role in accomplishing.
The planning process was rigorous. Many months were spent consulting different voices throughout the ICF ecosystem and refocusing the work of each ICF family organization and department to carry out the new plan, each functioning as part of the larger One ICF so that our entire ecosystem contributes to the overall health and growth of our organization.
"It has been a lengthy and very involved process as input has been gathered from our members, stakeholders, association management experts, and foresight authorities," explains ICF CEO Magdalena Nowicka Mook. "A dedicated group of ICF leaders worked tirelessly to arrive on this ambitious and inspiring, yet achievable plan. We are very excited to see the planning stage moving to execution."
The ICF Strategic Plan was approved by the ICF Global Board of Directors in December 2022. It will guide us for the next three to five years.